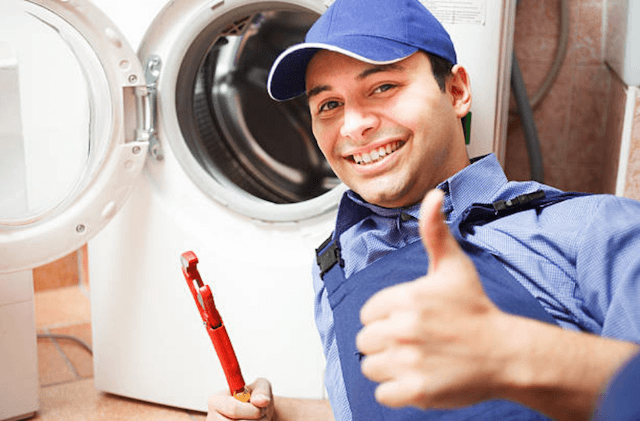 Las Cruces Appliance Repair proudly serves the appliance repair needs of our customers in Las cruces. We are a family owned repair service, run by folks who live in this community. Our family operated business does its best every day to show our clients how much we appreciate their business and their trust in our home appliance repair services.
When you call for one of our certified, local technicians, you are always in good hands. We routinely send our repairmen for education and training to keep their knowledge and skill set current. Our technicians have years of home services experience performing all manner of appliance repairs. We are especially proud that we keep up on all new brands and the newest technology.
We provide repair services the same day customers call. Our goal is always to come when you need our repair services and to finish all repairs on refrigerators, ovens, dishwashers, washing machines and any other repair services the same day you ask for our help.
We fix all major brands such as GE, KitchenAid, Wolf, Frigidaire, Bosch, Whirlpool, Kenmore, Maytag, Sears, LG, Samsung, Sub-Zero, and more. Please consult our FAQ below for more information. We specifically load up our vans with the manufacturer parts needed for our repairs and we give you a warranty on the parts we install and on our labor. Your complete satisfaction is our goal.
CALL TODAY: 575-221-5562
SERVICES IN LAS CRUCES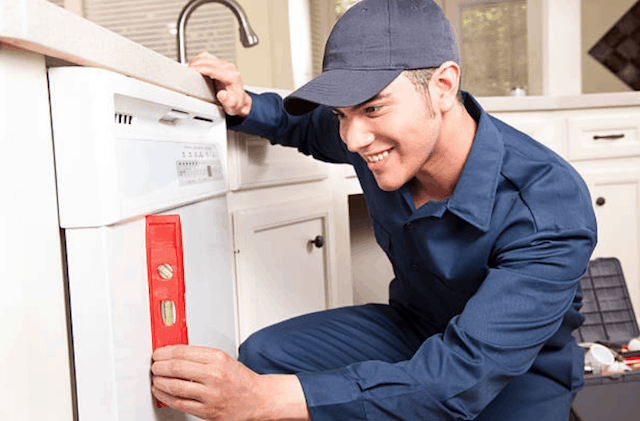 REFRIGERATOR REPAIR
Las cruces Appliance Repair is experienced in repairing all common refrigerator and freezer problems. We service all major brands and their models. We repair or replace non-functioning touch panels, burnt-out bulbs, ice makers, water dispensers and more. We will troubleshoot leaks, loud noises, condensation problems, cooling issues, and problems with the newest smart technologies. Call us when you have a refrigerator problem and we will fix it the same day!
OVEN/STOVE REPAIR
Think of our local appliance repair service as your on-call guys for fixing broken range hoods and stoves. We fix both gas and electric models. We routinely deal with all sorts of oven and stove problems including bulbs, switches, relays, ignitors, burners, doors, and more. Our repairmen carry the tools and stock the parts needed for range repair. And, this includes the newest models and technologies as well.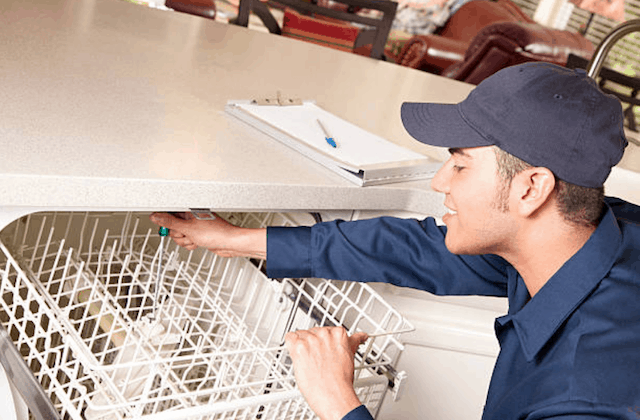 DISHWASHER REPAIR
When your dishwasher breaks down we will be pleased to schedule you for same-day repairs. We commonly diagnose and fix problems that cause cloudy glassware or odors. We know all about impellers, float switches, pump assemblies, and solenoids and fix or replace them when there are problems.
WASHER/DRYER REPAIR
We fix broken washers and dryers before your dirty clothes pile up or you need to make trips to the laundromat! Call us and we will promptly send a repairman to check out noise, vibration, agitation, or vent issues. And we fix both front-loading and top-loading machines for problems with control boards, switches, doors, and other parts. For Las Cruces Appliance Repair, same-day service for your washing machine and dryer is our business.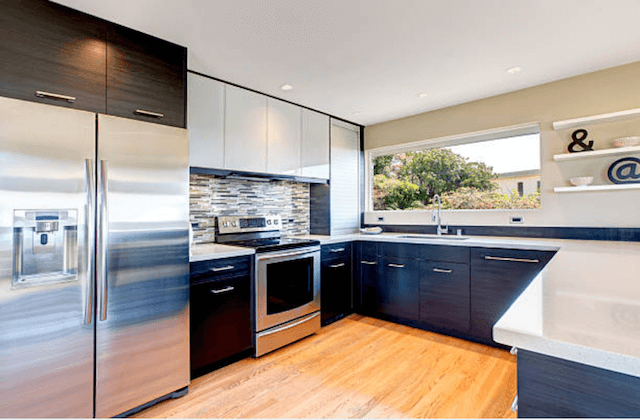 CUSTOMER REVIEWS
"Las Cruces Appliance Repair was wonderful! The technician was very nice and he knew just how to fix our dishwasher. One of the best home services businesses in town!" – Anna V.

"Great service! Highly recommend this appliance repair company." – Glenn I.

"I called for their refrigerator repair service and was surprised to find out a repairman could be over later that day. Sure enough, my fridge was fixed just a few hours after I called." – Pamela R.
APPLIANCE REPAIR FAQ
Q. IS APPLIANCE REPAIR OR REPLACEMENT THE BETTER CHOICE?
A. When you have a home appliance that is not working, there are two basic choices. One is to call an appliance repair service and the other is to buy a new appliance. How do you choose?
Every stove, washer, dryer, dishwasher, refrigerator, or freezer has an expected working lifetime. As a rule, old appliances that have served past their expected lifetime and are experiencing lots of breakdowns should usually be replaced. Appliances with just a few years of service and few or no previous repair needs should be repaired. Our technicians can help you decide once they check out your appliance if you should make repairs or buy a new appliance that fits your budget.
Average lifetimes for major household appliances:
Dishwasher: 10 years
Washer: 11 years
Dryer: 14 years
Refrigerator: 15 years
Gas Ovens: 15 years
Electric Stoves: 15 years
Freezers: 15 years
Q. DO YOU HAVE GUARANTEES OR WARRANTIES?
A. Yes, we do. We provide you with a warranty on the appliance parts that we install and also on our labor. When we replace parts we use the correct manufacturer parts for GE, LG, Whirlpool, Frigidaire, KitchenAid, Kenmore, Sub-Zero, and other appliance brands. Doing this preserves the manufacturer's warranty. And, these are better parts that will last longer. Also, if any problem ever recurs after our technician leaves, never hesitate to call and tell us!
Q. WILL YOUR TECHNICIAN MAKE REPAIRS ON THE FIRST SERVICE CALL?
A. Yes, they will almost all of the time. Over the years we have kept track of this and we are routinely 95% successful in repair services on one visit. And, when we need to come back, there is never another charge. To accomplish this goal, we always fill our vans with at least 90% of the frequently used manufacturer parts. And we always carry all of the needed tools to complete repair services.
Q. WHEN IS THE TIMEFRAME WHEN I SCHEDULE AN APPOINTMENT?
A. When you call for an appointment we give you a 2-3 hour window. If the technician is running early he will come during the early part of the window. If a job before yours takes longer than expected, he can finish that job and will arrive later in your service window. And, our technicians will always call you ten to fifteen minutes before they arrive at your home.
Q. MAY I SEE THE COMPLETE LIST OF APPLIANCE BRANDS YOU REPAIR?
A. Please see the full list below. We repair virtually every popular home appliance brand. If you happen to have a brand that we do not routinely see, don't worry, we can easily order and install the parts that you need.
BRANDS WE REPAIR:
Amana, Bryant, Caloric, Carrier, Century, Crosley, D&M, Electrolux, Frigidaire, G.E., Gibson, Glenwood, Goodman, Hardwick, JC Penney, Jenn-Air, Kelvinator, Kenmore, Kitchen-Aid, L-G, Lennox, Luxaire, Maytag, RCA, Roper, Rudd, Samsung, Sears, Signature, Sub-Zero, Tappan, Whirlpool, Williamson, York & More!
GE APPLIANCE REPAIR
GE Appliances is a large appliance manufacturer. The business is overseen by Haier. GE is a very major brand when it comes to home appliances. The brand has several product lines, including Haier, Monogram, Hotpoint and Cafe. We repair a lot of GE appliances every week. We specialize in standard GE repair services. These services include GE washer repair, GE refrigerator repair, GE dryer repair and GE dishwasher repair. Call on Las Cruces Appliance Repair for GE appliance repair. Read more about GE Appliance Repair.
SAMSUNG APPLIANCE REPAIR
Samsung and Samsung Electronics is an international appliance manufacturer located in South Korea. Samsung is known for high-quality products for homes and businesses. This includes their residential and commercial line of appliances. Samsung manufacturers refrigerators, top- and front-load washers and dryers, dishwashers, ovens and more. Las Cruces Appliance Repair performs a multitude of Samsung repair services in CITY. These repair services include Samsung washing machine repair, Samsung refrigerator repair, Samsung dishwasher repair and Samsung dryer repair. Call today for Samsung appliance repair. Learn more about Samsung Appliance Repair.
MAYTAG APPLIANCE REPAIR
The Maytag Corporation is an American home and commercial appliance brand. The brand is owned by Whirlpool Corporation based out of Michigan. The company has a proven tradition of selling quality and affordable kitchen and laundry appliances. Their models include front- and top-loading washing machines and dryers, French-door and side-by-side refrigerators and dishwashers and compactors. We offer Maytag repair. Our services include Maytag dryer repair, Maytag washer repair, Maytag dishwasher repair, Maytag refrigerator repair and more. Call Las Cruces Appliance Repair for Maytag appliance repair. Read more about Maytag Appliance Repair.
WHIRLPOOL APPLIANCE REPAIR
The Whirlpool Corporation is a manufacturer of appliances. Whirlpool is the largest manufacturer of household appliances in the world. The corporation oversees nine manufacturing factories in the United States. The corporation owns Whirlpool, Maytag, KitchenAid, Jenn-Air and Amana. Whirlpool and their family of brands manufacture refrigerators, stoves, washing machines, dryers and more. We can fix all brand and model from Whirlpool for homes and businesses. Our Whirlpool repair services include Whirlpool dryer repair, Whirlpool washer repair, Whirlpool dishwasher repair, Whirlpool refrigerator repair and more. Call on Las Cruces Appliance Repair for Whirlpool appliance repair. Learn more about Whirlpool Appliance Repair.
LG APPLIANCE REPAIR
LG, LG Corporation and LG Electronics are located in South Korea. LG manufacturers mobile devices, home electronics, and home appliances. LG is a luxury brand of appliances for homes with a higher budget. Not all appliance repair company in provides LG appliance repair due to this. But we do! Las Cruces Appliance Repair provides LG washer repair, LG refrigerator repair, LG dryer repair, LG washing machine repair and more. Call today for LG appliance repair.
KENMORE APPLIANCE REPAIR
Kenmore is a brand of residential appliances from Sears. The appliances are manufactured by Whirlpool, Electrolux and Panasonic. Homeowners can purchase Kenmore dishwashers, refrigerators, ovens, washers, ovens and dryers from Sears retail locations and website. We offer Kenmore repair services. Call for Kenmore washer repair, Kenmore dryer repair, and Kenmore refrigerator repair. Las Cruces Appliance Repair is the top service to call for Kenmore appliance repair. Read more about Kenmore Appliance Repair.
APPLIANCE REPAIR LAS CRUCES NM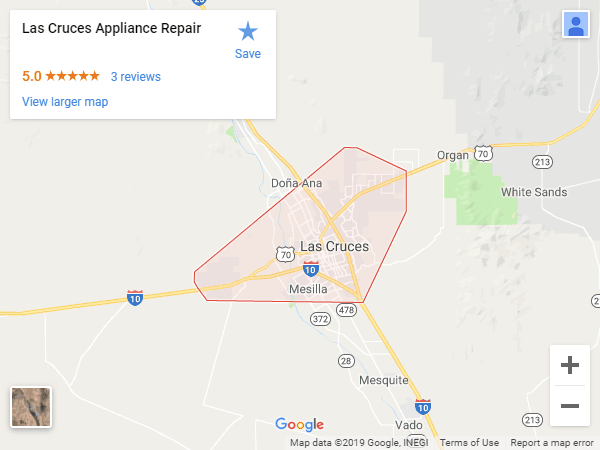 LAS CRUCES APPLIANCE REPAIR
PHONE: 575-221-5562
LOCATION: LAS CRUCES, NM
Located in Las Cruces. We serve several cities in the area. Service area includes: Fairacres, San Ysidro, Tortugas, University Park and more!
SERVING ALL OF LAS CRUCES, NEW MEXICO
88001 88003 88004 88005 88006 88007 88011 88012 88013